I had the privilege of attending a professional development day with Dr. Nicki Newton this past week. If you've heard her speak before, you know that she is fast paced, to the point, and a wealth of information! I left with my head spinning with so many good ideas I want to implement as part of my math block. If you haven't heard of her, she has written about Guided Math Instruction and she travels internationally to speak about it.
This is her text available on Amazon:
It has lots of ideas that are easy to implement right away--it's a good resource to have in your classroom library.
She's also got an amazingly extensive Pinterest board with TONS of math ideas, narrowed down by different math topics and strands. A.M.A.Z.I.N.G. I would highly recommend following her on Pinterest to keep up with her!
And this isn't even all of it!! Check out her boards here.
Here is Nicki herself telling about the 5th grade critical math areas. If you're going to watch just one video, make it this one!
I wanted to share with you a couple things that I will definitely be implementing with my fifth graders immediately. I thought since she unloaded SO MANY ideas all at once, I'd slow down and share one idea each day this week. Consider it my first mini series!
Today, I'll share with you this:
In my classroom, we are beginning 5.NBT.6 starting Monday, which is all about division. She shared with us that we should be showing a variety of strategies to teach this besides the normal algorithm. Some of the ways were challenging, and some ideas were like, "Oh, hey, I can do that!" Here's one of those "ah ha!" videos below: Olivia's short division.
Another way to teach long division is using Base Ten blocks with the area model of division. This way, I admit, I had to watch a couple times because it was little confusing to me. And then I got it! It's another good way to implement manipulatives into the classroom to teach conceptual understanding.
Another strategy is to teach long division by chunking.
In 5th grade, one of the big CCSS ideas is to use the Distributive Property to solve division problems. They also want the children to show using models and pictures to explain their work. She stressed the importance of having tools for the children to use, and one of those big tools is (no surprises here) anchor charts! Now, if I could just get a chart fairy to create these beautiful things I'd be all set, but alas...oh well. Here's some GREAT charts that I will be making for my room.
They've also got to use that math vocabulary in their talk! It's SOOOO important. Here's an easy thing to stick in their math notebooks.
Because Nicki's focus is Guided Math, she shared several centers or stations (I like stations for the upper grades...sounds more sophisticated for 4th and 5th graders) that are easy to use.
The first is the Power Towers. All you need is Dixie Cups and you're all set! See here how to do this!
This is also great because you can differentiate the cups for all learners. In the video he has addition problems, but you can easily use division on the cups. And then my mind fast forwards to algebraic operations and the possibilities are endless. If some students are working on fluency, set up a timer and see how fast they can build their tower. If some students are working on accuracy, forget the timer and let them work at their own pace. Genius. Now I've got to start eating some Pringles...
Here's another idea for a division station: A division game. All you need is the game board and some dice, and you're all set! This is also easy to differentiate because you can control how difficult you want the problem based on the directions.
And for the students still needing work on division with single digit divisors, here's a game for that by Simply Centers.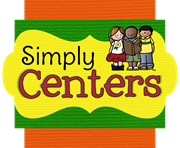 This hardly skims the surface for what is available out there for long division. If you want to link up and share YOUR experiences or resources with this standard, find the linky below!
I'd love to see what you're doing in your classroom to teach this standard!
Check back tomorrow for my take on Fraction of the Day!